Ickley Close village green inquiry could cost £40,000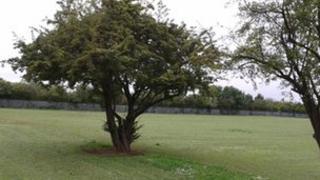 An inquiry to see if a Luton field can be developed for housing could cost the council £40,000 in legal costs.
Luton Borough Council wants to put housing on its land behind Butely Road.
Protesters say the field by the M1 meets legal criteria to be designated a village green, with evidence it has been used freely by residents for 20 years.
The council will now appoint an independent legal adviser to look at the request.
Plans to build on the land at Ickley Close, which was given to the council by developers George Wimpey in the 1970s for residents, were approved by the council in July.
The development includes more than 50 homes with 23 earmarked for social housing and shared ownership.
To be designated a village green, the land has to comply with the Commons Act 2006, which states that "a significant number" of local people must have "indulged as of right in lawful sports and pastimes on the land" for at least 20 years.
The council and prospective builders of the development, Wates, have lodged two of the three objections to the village green bid.
'Waste of money'
The authority ruled that, as both the landowner and objector, it must appoint an independent legal expert to consider the plan.
Council solicitor David Watson estimated it would cost £20,000 per meeting for two sessions.
He said: "We will obviously seek to instruct appropriate counsel and seek to minimise what we pay but we have to have someone of the appropriate experience."
Protesters say they have already proved the legal criteria has been fulfilled so the inquiry is a "complete waste of money".
Resident Martin Stiff said they asked 150 households to confirm how long they had lived in the area and what they used the space for.
"We got 90 replies back which we enclosed with the application, to prove that over the 20 years, people have used it," he said.
"To provide this non-statutory solicitor to sit as an arbitrator is a complete waste of taxpayers' money."