Love Luton festival makes £394,000 loss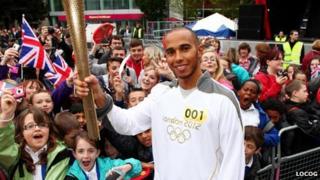 A four-day festival that coincided with the Olympic torch relay in Bedfordshire made a total loss of £394,000, it has been revealed.
The Love Luton festival, which ran from 6 to 9 July, included gigs by The Wanted and Olly Murs as well as hundreds of free artistic performances.
Luton Borough Council said the weekend cost £100,000 more than estimated.
It said low ticket sales and last-minute security to protect torchbearer Lewis Hamilton added to the cost.
The council said its own assessment revealed the festival also had less sponsorship than expected, higher production costs due to the wet weather and increased marketing costs.
Hazel Simmons, leader of Luton Borough Council, said: "We should not lose sight of the fact that we have delivered the most spectacular event in Luton's history, which not only brought the community together like never before, but also put Luton on the map for all the right reasons.
"The positive media coverage and the boost it gave the local economy has been unprecedented and we are equally delighted that tens of thousands of people had a wonderful time that exceeded their expectations.
"However, we do have to balance all of these positive factors against the fact that things didn't quite go in our favour in terms of the amount of tickets sold.
"While we are confident that we did everything we could to sell as many tickets as possible, including acting on advice given to us from variety of industry professionals throughout, things just seemed to go against us in this regard."
The council will meet on Monday to consider how the £394,000 deficit may be funded.
Two weeks prior to Love Luton, the council said it had sold less than a quarter of tickets needed for the festival to break even.
Only 2,500 tickets for The Wanted and Olly Murs had been bought for £30 before the price was halved.