Bletchley Park Enigma code hut to be restored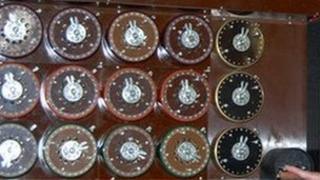 One of the first huts to house the Enigma code breaking device at Bletchley Park is to be restored.
Huts 11 and 11A at the Buckinghamshire museum were the first to house the large electro-mechanical Bombe devices, which decrypted German military messages during World War II.
The Bletchley Park Trust now wants to raise £250,000 to return Hut 11A to its original state.
The restored hut will become the home to the museum's rebuilt Bombe machine.
Bletchley Park was the wartime home of the Government Code and Cypher School which broke the codes generated by the German Enigma machine, using the Bombe.
The Enigma machine was used by the German navy, air force and army to send encrypted messages.
Although huts 11 and 11A housed the first of the Bombes, by the end of the war there were about 200 housed in various locations used for breaking German code.
'Needs to grow'
The Bombe was developed by a team including mathematician Alan Turing, which enabled cryptographers to decode more than 3,000 German messages in a day.
Some historians believe the work done at the site may have shortened the war by up to two years.
The money being sought is in addition to the £2.7m raised to unlock a £5m Heritage Lottery Fund grant to restore other museum buildings.
It took 10 years and about 60 volunteers to rebuild a replica of the Bombe, piece-by-piece, which opened as a visitor attraction in 2007.
It is currently housed in Block B alongside the Enigma and Turing Exhibitions but its popularity means a bigger home is needed ahead of the park's relaunch in 2014.
After World War II, Hut 11A was used for various purposes by a number of organisations and was changed and refurnished over the years.
The aim of the restoration project is to return it to its original layout and design.
Iain Standen, CEO of the Bletchley Park Trust, said: "As our visitor numbers continue to soar, the museum needs to grow to accommodate them.
"We now need to start moving exhibitions about the code breakers of World War II into some of the buildings where they worked."