Luton residents apply for Ickley Close village green status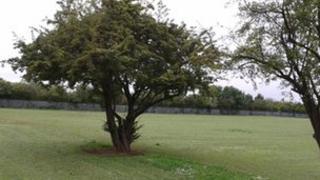 Residents in Luton want to win village green status for an open space near their homes to stop houses being built on it.
Luton Borough Council wants to put housing on land behind Butely Road.
Protestors say the field by the M1 fulfils the legal criteria to be designated a village green, including proof it has been used unhindered by residents for 20 years.
The council is expected to put the request to a public inquiry.
Plans to build on the land at Ickley Close, which was given to the council by developers George Wimpey in the 1970s for residents, were approved by the council in July.
The development includes more than 50 dwellings with 23 earmarked for social housing and shared ownership.
Resident Stephanie Stiff, who has lived next to the field for 27 years, said Luton was already "very depleted" in open space.
"We know we need housing, it's desperate but there are brown field sites in Luton for them to build on," she said.
"Our open spaces are so important for the children, it's no good having houses everywhere and nowhere for people to breathe."
She revealed that designating it a village green would give it "an awful lot more protection".
"Luton Borough Council will find it incredibly difficult to build on," she said.
To be designated a village green, the land has to comply with section 15 of the Commons Act 2006, which states that "a significant number of the inhabitants of any locality .... have indulged as of right in lawful sports and pastimes on the land for a period of at least 20 years".
Ms Stiff said that the land "fulfilled the criteria".
"We have signed legal statements from people saying what they have used the land for and for how long they have used it going back to before 1970," she said.
Since the application for village green status was received, the council has received three objections, including its own and from builders Wates.
At a meeting of the regulation committee on Monday, the council is expected to recommend the application is put to an independent barrister which will then lead to a public inquiry.