Bedfordshire businessman guilty of sham marriage scam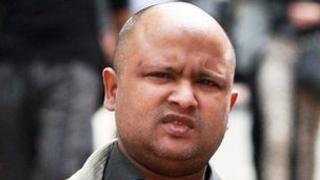 A Bedfordshire restaurant owner has been found guilty of being involved in a sham marriage scam.
Gyash Uddin, 39, of Ivy Road, Luton, used his business to help Bangladeshi men gain UK residency.
Luton Crown Court heard he set up marriages between the men and workers at restaurants he owned.
A jury found Uddin guilty of eight charges of conspiring to facilitate a breach of immigration laws by non-EU citizens.
Two other men on trial - Mohammed Razul Miah, 35, also of Ivy Road, Luton, and Mohammed Dolan Miah, 29, of Spencer Road, Luton - were each found guilty of two charges of the same offence.
Uddin was cleared of possessing articles for use in fraud.
Judge David Farrell QC told Uddin: "A substantial sentence is inevitable. You were at the centre of these matters."
'Organiser of scam'
Sentencing was adjourned to a later date.
Uddin, who owned a restaurant in Leighton Buzzard, told the court members of his family from Bangladesh married Polish women working at the restaurant but he was not suspicious about it.
The prosecution said Uddin was motivated to bring in relatives to the UK and then ensure they would be able to remain by marrying an EU national.
Prosecutor Will Nobel asked Uddin: "Does it not seem farcical that all of this was going on around you and you thought they were all genuine?"
Uddin replied: "No."
Mr Noble put it to Uddin that he was at the centre of everything as he was related to, or employed, the "significant characters" in the case.
"You are not the victim of unfortunate coincidences, you are the facilitator, organiser and planner of everything, do you agree?"
Again Uddin replied: "No."