Tom Cruise goes for curry at St Albans restaurant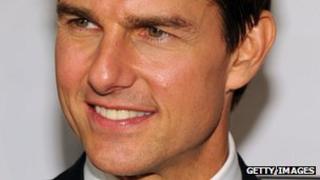 Hollywood star Tom Cruise surprised Hertfordshire diners when he popped into an Indian restaurant for a curry.
The Mission Impossible actor ordered lobster and chicken tikka masala when he and eight companions visited the Veer Dhara in St Albans on Tuesday.
Cruise, who tops Forbes Magazine's list of highest-paid actors, tried to settle the £220.85 bill by American Express.
The restaurant does not take that card, so another member of the party paid in cash and left a £79.15 tip.
Table for 10
Manager Darshit Hora said it was "a bit of a surprise" when Cruise's party arrived just before 22:00 BST.
He said that the restaurant had received a call at about 21:00 BST from a man wanting to reserve a table for 10.
An hour later, two cars drew up outside and a bodyguard came in to reveal the identity of the diner and ask the manager to make sure the meal was a low-key affair.
"He said, 'Tom Cruise is visiting your restaurant and doesn't want to disclose that he will be here; he is with his family and just wants to have a nice relaxing evening'," said Mr Hora.
"He said he was staying about 15 miles away and came here because it was recommended."
The actor sat at a table facing the open-plan kitchen with his back to the restaurant, and ordered sparkling water.
He asked Mr Hora to bring him any food that he liked, but it should be "spicy" and include the lobster, which he had "heard good things about", and chicken tikka masala.
The actor, who also starred in Stanley Kubrick's film Eyes Wide Shut, was thought to be a regular visitor to the director's Childwickbury Estate on the outskirts of St Albans.
Cruise is in Hertfordshire because his latest film, All You Need Is Kill, is being shot at Leavesden Studios in the county.