Hertfordshire NHS Trust fined over care home death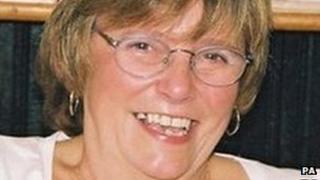 An NHS trust has been fined £150,000 and told to pay £326,345 costs over the killing of a female care worker at a residential home in Bedfordshire.
The owner of Abacus House in Dunstable, Chelvanayagam Menna, 58, was also fined £75,000 with costs of £388,996 for failing to ensure staff safety.
He was prosecuted with Hertfordshire NHS Trust at Luton Crown Court for health and safety breaches.
Stephen Flatt stabbed to death Kathleen Bainbridge, 58, at the care home.
Flatt, who has a bipolar disorder, stabbed Mrs Bainbridge to death in August 2007.
He also attacked and seriously wounded her colleague Barbara Hill who still suffers from post traumatic stress disorder.
The NHS trust was found guilty in June of not carrying out a proper risk assessment on 55-year-old Flatt.
Home owner Menna was found guilty, with the NHS trust, of health and safety breaches and was motivated by greed, the court was told.
Judge Michael Baker QC said: "The failure of duty by the trust and Mr Menna led to the death of a dedicated carer, Kathleen Bainbridge, and devastated the lives of her husband and family."
The death of Mrs Bainbridge could have been avoided if the risks presented by Flatt had been properly assessed and the shortcomings of Abacus House recognised, he said.
Flatt should never have been sent there and "both defendants contributed to her death", said the judge.
Blame went "to a senior management level at the trust" he added.
He told Menna: "You were the only person who had direct and ultimate responsibility for safety."
He said he had failed to heed the concerns of his staff.
"He allowed financial gain to guide him rather than a prudent approach to issues of safety."
Judge Baker said Menna had not been candid when approached by the trust over whether Abacus House could deal with someone like Flatt.
Abacus House was not "competent" to deal with him, said the judge.
In April 2009 Flatt was ordered to be detained for an indefinite period in a secure hospital after being deemed unfit to plead.