Daniel Spires: Three convicted of murder over '£30,000'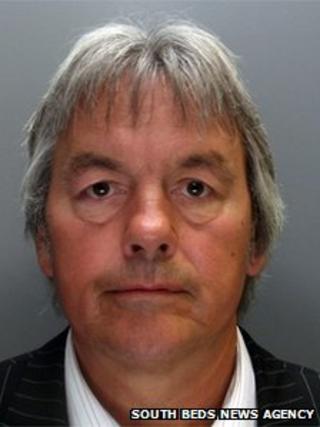 Three people have been found guilty of murdering a man who was lured to woods and beaten to death with a hammer.
The body of Daniel Spires, 69, was found in a wood near Welham Green, in Hertfordshire, on 24 September 2011, three months after he was killed.
Daniel Davies, 24, and Samantha Smith, 21, both of Alma Road, St Albans, and Davies' step-brother, Tony Schuldt, 20, of no fixed address, had denied murder.
They were convicted after a trial at St Albans Crown Court.
The court heard the three concocted the murder plan because they believed their victim kept £30,000 in a safe, however when they opened it, it contained one dollar.
Jurors heard they confessed to others and were arrested more than three months later when Mr Spires' remains were found. The murder is believed to have taken place between 12 and 15 June last year.
The jury also convicted Smith of obstructing the coroner.
'Throttled with rope'
Smith pleaded guilty to two charges of assisting an offender in relation to Schuldt and was convicted by the jury of two charges of assisting an offender in relation to Davies.
Schuldt pleaded guilty to perverting the course of justice and obstructing the coroner. Davies was found guilty of obstructing the coroner.
The court heard the three had been regular visitors to Mr Spires' address in Cotlandswick, London Colney near St Albans, in the period before his murder.
Stuart Trimmer QC, prosecuting, said: "He bought and sold items and had a metal safe. It is this safe that appears to be a central feature in the murder. These defendants believed it contained £30,000 in cash."
The court heard Mr Spires was tricked into going to the woods with the two men who said they had some catalytic converters to sell.
The prosecutor said: "He was attacked there in the van, but not killed. After being throttled with a rope he was dragged out of the van.
"The rope was tightened using a hammer handle as a tourniquet. He was beaten and kicked and finally the hammer was used to beat his head until he was dead."
Mr Trimmer said. "Samantha Smith was part of the group trusted with the knowledge of the plan and the execution of it. It started from her flat, it returned to her flat.
"Her flat was the place where all were free to change out of bloody clothes and to dispose of them. Although not at the scene of the murder she was part of its planning and assisted in its execution."
All three defendants will be sentenced on Monday.