Diamond Jubilee tour: Queen visits Hertfordshire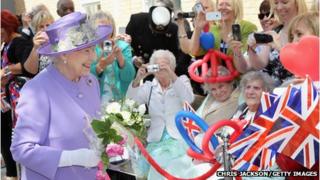 The Queen received a gift that replicated one given to Queen Victoria more than 150 years ago during a visit to Hertfordshire.
Thousands lined Hitchin's market square to greet Her Majesty on the first stop of her tour of the county.
The Queen was presented with lavender oil from locally grown plants, similar to a gift presented to her ancestor at Hitchin station in 1851.
Many of the crowd had waited since the early hours to claim a good vantage.
They stood six or seven deep and waved union jack flags and cheered as she passed.
Around 24 schools from Hitchin and the surrounding area bussed in their pupils for the visit.
Many of Hitchin's shops had shut for the day but some, such as banks, remained open, with their staff standing in the doorways and windows watching the spectacle of the royal visit.
During her time in the town, she presented The Queen's Award for Voluntary Service to the team from the town's British Schools Museum.
In Stevenage, the monarch spoke to new mothers when she officially opened the East and North Hertfordshire NHS Trust's new £16m maternity unit at the Lister Hospital.
The Queen's official opening of the facility comes 40 years after the Queen Mother opened the hospital. The trust has confirmed that it will be renamed as the Diamond Jubilee Maternity Unit.
The final leg TOOK the Queen to Hatfield House, where a Jubilee tree was planted in Hatfield Park ahead of a reception and lunch.
The Queen was not accompanied by the Duke of Edinburgh, who is still recuperating from illness.