MP calls for pardon for computer pioneer Alan Turing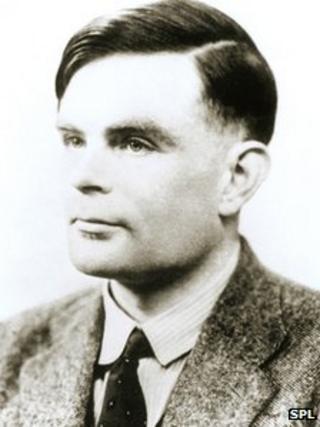 An MP wants the government to consider granting an official pardon to a World War II codebreaker over a conviction for indecency with another man.
Iain Stewart, Conservative MP for Milton Keynes South said the centenary of Bletchley Park leader Alan Turing's birth in June was a chance to re-examine the case.
Turing is considered the "father of modern computing".
Mr Stewart said it was a chance to "put right a wrong".
Speaking during the Commons Whitsun recess adjournment debate, the Conservative MP said: "He was a brilliant mathematician.
"His role at Bletchley Park in deciphering the messages encrypted by the German Enigma machine was vital.
"He led a team that designed a machine to decode the German's military messages.
"That information was so vital to the Allied campaign that without it the war may have lasted much longer and indeed the outcome of the war may have been very different."
Debt of gratitude
In 1952 Mr Turing was convicted of gross indecency following a relationship with another man and underwent hormonal treatment as an alternative to prison.
He committed suicide two years later.
Mr Stewart said: "The former prime minister (Gordon Brown) rightly issued an official apology on behalf of the government."
But he added there was more which could be done, and urged the government to "explore all possibilities", citing a campaign and e-petition to grant Mr Turing a formal pardon.
He said: "If a pardon in the traditional sense is legally not feasible is there not some other way that this could be done. We owe so much to this great man.
"The coming centenary of his birth affords us a great opportunity to put right what was done wrong to him and I urge the government to look carefully at this matter."