UK Border Agency criticised over Yarl's Wood detention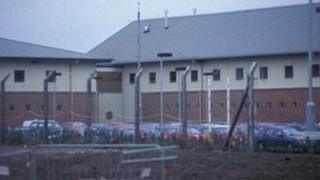 Two women due for deportation have been kept at Yarl's Wood removal centre in Bedfordshire for two-and-a-half years, a report has revealed.
The Independent Monitoring Board said the UK Border Agency had breached standards by detaining people with no realistic prospect of deportation.
It said the women, who have been held for more than 900 days, were among 16 women detained for more than a year.
The UK Border Agency (UKBA) said it would carefully consider the report.
"The UK Border Agency only detains as a last resort and with a view to deport/remove. The agency will not detain anybody for any longer than necessary," a UKBA spokesman said.
"However, there are those who prolong detention because of their attempts to frustrate the removal process. They must take responsibility for that."
'Human suffering'
The report said detention at Yarl's Wood was often indeterminate and questioned why some detainees were being held in the first place.
It said the UKBA was in breach of standards which stated people must not be taken into detention unless there was a realistic prospect of removal within a reasonable time.
It said almost a third of 2011's detainees were not removed from the country and this suggested Yarl's Wood was "not fulfilling its basic function".
"The financial costs of this failure, as well as the costs in terms of human suffering, for people detained for lengthy indefinite periods, are immense," the report said.
The report also questioned the increased use of force, detainees being removed at night and removals being cancelled at the last minute.
It called on Immigration Minister Damian Green to review the policy of detaining pregnant women, which was also a prominent criticism in a report on the centre by the chief inspector of prisons Nick Hardwick last year.
However, it also recognised positive work with detainees such as religious provision and continued improvements in healthcare.