Trust in court over carer killing in Bedfordshire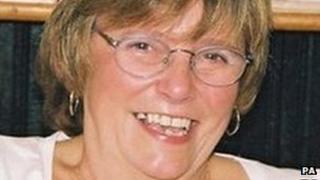 A mental health patient who killed a carer should not have been sent to an "unsuitable" care home because of his history of violence, a court has heard.
Stephen Flatt, a patient at Abacus House, Dunstable, was ordered to be detained at a mental health unit in 2009 for killing Kathleen Bainbridge.
Hertfordshire Partnership NHS Trust denies breaking health and safety rules, Luton Crown Court heard.
The jury was told Abacus House was not "geared up" to cope with Flatt.
The owner of Abacus House, Chelvanayagam Menna, 58, of Periwinkle Lane, Dunstable, pleads not guilty to three charges under the Health and Safety Act.
It is alleged that he failed to carry out a proper assessment as to the risks staff and other patients were exposed to by the arrival of Flatt.
Duty of care
As well as pleading not guilty to contravening a health a safety regulation, the trust has denied a second charge of failing to discharge a duty to ensure persons not in its employment were exposed to risks.
Mr Rex Tedd QC, prosecuting, said that Abacus House was not "geared up" to be able to cope with Flatt, who suffered from bipolar disorder.
The court was told Flatt, who lived in the St Albans area, had a history of mental problems going back to the late 1970s.
He had been diagnosed as suffering from paranoid schizophrenia. In the past he had been violent and was convicted of assaulting his father and a policeman.
He carried offensive weapons and there were periods when he was judged to be a danger to himself and others.
Later he was diagnosed as suffering from bipolar disorder.
On New Year's Day 2007 Flatt, who was 55, was sectioned under the Mental Health Act and put in a number of units before being put in Abacus House.
The jury heard it was around this time that both his elderly parents died.
Mr Tedd said Abacus House was a "highly unsuitable" care home for Flatt.
He said staff at the residential care home were not trained either in dealing with patients suffering from bipolar disorder or in managing the condition.
The jury was told that Hertfordshire Partnership NHS Foundation Trust had never sent anyone to Abacus House before Flatt.
Mr Tedd said: "The trust had a duty to ensure that staff and residents at the new placement were not put at risk. The prosecution say the trust failed in that duty."
The case continues.