Luton protest: EDL and WAL marchers kept apart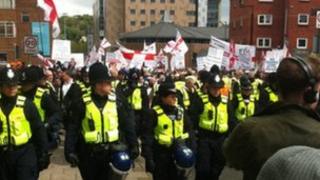 Two demonstrations that threatened to bring trouble to a town centre have passed off without major incident.
The English Defence League (EDL) and We Are Luton (WAL) staged separate events and were kept away from the town centre.
About 2,000 demonstrators from the groups were marshalled by 1,500 police brought into Luton from 22 UK forces.
Splinter groups that tried to break away from the marches were brought back together by police.
Bedfordshire Police said the day of action had concluded peacefully, despite "isolated incidents" of disorder including smoke flares being set off and bottles being thrown towards police officers.
Two people were arrested on suspicion of public order offences.
'Resounding success'
The town "stayed open for business", which was the stated aim of Luton Borough Council.
Assistant Chief Constable Andrew Richer said: "Overall the policing of these protests has been a resounding success and is testament to everyone involved including the community themselves and our partners.
"It is disappointing that we saw disorder from some members of Unite Against Fascism, who were part of the 'We Are Luton' march, who attempted to break out of the agreed protest route.
"This shows policing of these events is justified as there is such a large area to protect."
The two people arrested remained in custody, police said.
A spokeswoman said one was an EDL supporter and the other was from the WAL group.
EDL said its march was in protest at a Muslim group being allowed to march around the town hall.
Group leader Tommy Robinson earlier announced he was joining the British Freedom Party "to bring campaigns into the political sphere".
He said that the EDL was discriminated against because it was not allowed to march to the town hall to demonstrate its disappointment with the borough council.
WAL, which is aligned with the Unite Against Fascism campaign, held its demonstration to show it was "standing up against groups like EDL".
Its spokesman said it represented "the real people of Luton who did not want to be associated with the aims of the EDL".
After speeches the two groups were marshalled separately to the town railway station and car parks.
The leader of Luton Borough Council, Councillor Hazel Simmons, said: "I was very disappointed that the EDL chose to come to Luton again today so soon after their previous protest in February last year which caused large-scale disruption to the people of the town and loss of trade for its businesses.
"I would like to stress that what happened in town today does not represent the real Luton.
"The Luton I know is a town where people get along well together, celebrate our diversity and work together to overcome challenges."