Justine Greening suggests moving ancient woods for HS2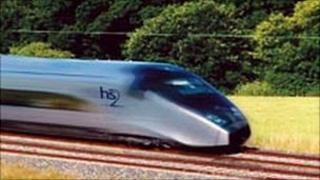 Anti-HS2 campaigners have dismissed a government plan to move ancient woods as "absolute nonsense".
Transport Secretary Justine Greening suggested "transplanting woodland to an adjacent site", in a letter to Chesham and Amersham MP Cheryl Gillan.
The Tory MP raised constituents' concerns about the proposed high speed rail link's impact on their areas.
Steve Rodrick, from the Chilterns Conservation Board, said moving woodland was "not credible".
'Absolute nonsense'
The high-speed rail line will run from London to Birmingham, through a number of countryside areas, with services travelling at up to 250mph.
In the letter, Ms Greening said that as an important part of the UK's natural heritage, ancient woodlands "need to be protected wherever possible".
She said the Environmental Impact Assessment process would identify the scope of the rail link's effect on the environment, but transplanting the woods would be an "appropriate" mitigation solution, as well as "using narrower cuttings wherever possible to avoid unnecessary land take".
Mr Rodrick said the proposal was "not possible" because what you would end up with "won't be ancient woodland".
"Ancient woodland is special because over millennia it has evolved its own ecosystem including soils, root fungi... which are lost when disturbed," he said.
"It is absolute nonsense to suggest that any valuable habitat can simply be trans-located by scooping it up and replanting it. I am not aware of any successful example."
'Smaller cutting'
Joe Rukin, from Stop HS2, said: "When the government start talking in all seriousness about transplanting ancient woodland, you begin to realise what they really need transplanting are some brains.
"Do they really think they can just carefully pick up an entire ecosystem, including thousands of trees which are hundreds of years old, plonk them a few hundred yards away and that'll be all right?"
A spokesman for HS2 Ltd, which is owned by the Department for Transport, said: "We recognise the importance of ancient woodlands and as a result refinements to the new line, such as a smaller cutting through Cubbington Wood in Warwickshire, have already been made.
"These lessen the impact on such sites, while balancing the needs of the high speed line and minimising the environmental effects on the community.
"A detailed environmental survey programme is currently being carried out, as well as meetings with local people and relevant organisations, to look at ways of further reducing the impact of HS2."