Gary Connery plans skydive without using parachute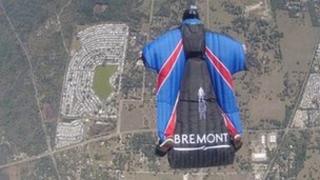 A stuntman is preparing to leap from a helicopter at a height of 2,400ft (730m) - without using a parachute.
Gary Connery, from Henley-on-Thames, Oxfordshire, will attempt the stunt this week, weather permitting, wearing a specially developed wingsuit.
The 42-year-old will make the jump above Ridge Wood in Buckinghamshire and land in an area containing a stack of 18,600 cardboard boxes.
"No-one has ever attempted this before, but I will do it," he said.
Mr Connery has worked closely with Tonysuits to develop a suit which will enable him to fly at slower speeds and land without a parachute.
The father of two, who has already completed about 880 skydives and 450 base jumps, has been working on the precision and accuracy of the suit in Switzerland, Italy and America.
"I've been doing lots of base jumping wearing the wingsuit, flying close to cliffs and treetops to get familiar with the ground rush," he said.
'Feeling scared'
During the attempt, Mr Connery will drop for three seconds before his suit "starts to fly", and will accelerate to a top speed of about 80mph.
He will land on the giant stack of cardboard boxes - which covers a strip of about 350ft (100m) by 45ft (15m) at Temple Island Meadows on the Buckinghamshire and Berkshire border.
Mr Connery must flare his wingsuit about 200ft (60m) from the target to bring his gliding speed down to 50mph and his vertical falling speed to 15mph.
The entire flight will take about 50 seconds, but can only take place under "perfect" weather conditions.
"We need a clear, sunny day with zero wind to stop the cardboard boxes blowing away," he explained.
"Everything to do with the jump is about precision and timing."
Mr Connery, who will have an emergency parachute in case the stunt doesn't go to plan, admitted to feeling "scared" ahead of all his jumps.
"It's part of what keeps you safe."
'It's phenomenal'
He added: "Paranoia in this kind of situation is a very good state of mind. It makes you look out for all eventualities and deal with them before they arrive.
"When you're in flight, you are so in control it's phenomenal."
Mr Connery, who has worked on films including Die Another Day, Batman Begins and Indiana Jones and the Kingdom of the Crystal Skull, said performing stunts was "his life".
"I've been a stunt performer for TV and film for the last 16 years and have been base jumping for 18 years so this is just an extension of who I am," he said.