Hemel Hempstead 'unlawful' bus lane signs may prompt refunds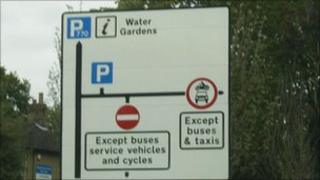 Thousands of drivers prosecuted for using a bus lane in Hertfordshire could have their fines refunded because of the placement of signs.
The chief adjudicator at the Traffic Penalty Tribunal has ruled the signage on Moor End Road in Hemel Hempstead was unlawfully placed.
Liberal Democrat councillor Nick Hollinghurst believes the county council should return the £60 fines.
"The council has a moral duty to repay the penalties and apologise," he said.
"They should also immediately cease issuing any further penalty notices and suspend the scheme until they have amended their defective Traffic Regulation Order and put up approved traffic signs in places where they can easily be seen by motorists."
No more fines
Colin Thomas, who led a group of protesters with placards along the bus lane to warn other drivers, also welcomed the decision.
"A lot of people felt incensed to get these fines for driving along a road that they had been using since it opened in 2005," he said.
"This is one of the worst marked bus lanes I have ever seen and our group has been campaigning to get it changed for some time."
Rob Smith, Transport Management Assistant Director, said the council was "surprised" and "disappointed" with the tribunal outcome.
"The measure was put in place to ease the congestion affecting buses and delays to bus passengers travelling on this long-standing bus route," he said.
"We are currently considering the adjudicator's verdict and will make a decision on how to proceed in due course.
"In the meantime, no further penalty charge notices will be issued, although the signs alerting motorists to the bus lane will remain in place."