Milton Keynes landlord jailed over fire deaths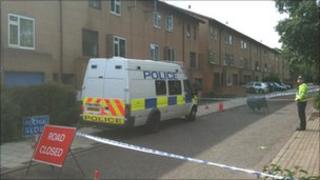 The landlord of a property in Milton Keynes where a woman and her daughter died in a fire has been jailed for four months.
Buckinghamshire and Milton Keynes Fire Authority took the action against Lookman Adeyemi, 39.
He pleaded guilty at Amersham Crown Court to three breaches of fire safety regulations.
Bola Ejifunmilayo, 29, and her daughter Fiyin, three, died in the Fishermead Boulevard fire in September 2010.
A Northamptonshire woman was jailed for their manslaughter in March 2011.
Adeyemi was also ordered to pay £10,000 towards prosecution costs.
Among the breaches admitted were providing insufficient fire detectors and alarms at the premises.
He also failed to make a suitable assessment of risk and to ensure that quick and safe evacuation was possible.
The fire, which took place in the early hours of 5 September, spread through the first and second floors of the property.
Ms Ejifunmilayo and Fiyin from Nigeria, who lived in a second-floor room, could not escape and died from the effects of smoke inhalation.
Barbara Zhanje, 48, of Kettering, was found guilty of manslaughter and arson with intent and was jailed for 12 years.