High Wycombe hit-and-run victim found in road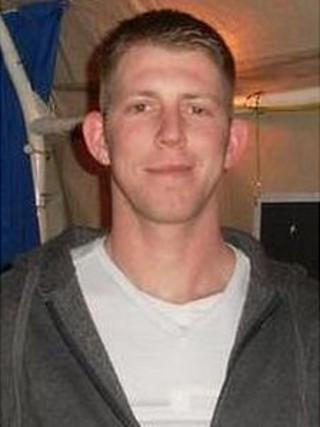 An "altercation" took place at a house in Buckinghamshire shortly before the death of a man in a hit-and-run crash.
Ryan Adamson, 25, from Nantwich in Cheshire, was hit by a car in Cockpit Road, Great Kingshill, High Wycombe, at 22:45 GMT on Thursday.
Police said there had been an "altercation" at a house in Cockpit Road, after which Mr Adamson was found lying in the road.
He was then hit by light or silver-coloured saloon car which did not stop.
Det Ch Insp Gill Wootton said Mr Adamson had been found lying in the road, where members of the public had stopped to help him.
A car was flagged down, which hit the victim and failed to stop at the scene.
Damaged car
Preliminary findings from the post-mortem examination showed Mr Adamson died from the injuries he received from the impact with the car.
Det Ch Insp Wootton said: "Although the circumstances leading up to Ryan's death remain under investigation, our focus is on identifying the car and the driver involved."
Police appealed for the driver, or anyone who may have information about the car, to come forward.
Officers believe the vehicle may have been damaged on its front end nearside in the crash.
The car was travelling from the direction of Little Kingshill and left in the direction of Cockpit Road after the crash, turning left in Cryers Hill Road.
Three men, aged 22, 24 and 38, were arrested following Mr Adamson's death. They have been released on bail until 23 April.
In a statement, Mr Adamson's family thanked those who stopped and helped him on the night he died.
"Ryan was part of a large family who are devastated by his tragic death," the statement read.
"It is so important for us to know he was not alone when he died."