London 2012: Torch route through three counties revealed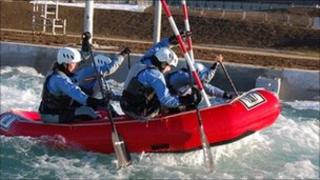 The 2012 Olympic torch route through Hertfordshire, Bedfordshire and Buckinghamshire has been announced.
The relay starts on 19 May at Land's End, Cornwall, and will be in the three counties on 7, 8 and 9 July.
Locog said the relay would see the torch carried over the rapids at Lee Valley White Water Centre, the venue for the Olympic canoe slalom.
On 7 July, the torch will arrive in Waltham Cross at 08:46 BST ahead of its arrival at the Olympic rafting centre.
It will then visit Hertford, Ware and Bishop's Stortford before heading into Essex.
The flame will then return to the three counties on 8 July, when it will be carried through Bedford at 09:32, Letchworth Garden City, Stevenage, Welwyn Garden City, Hatfield, St Albans and Hemel Hempstead prior to arriving for an overnight stay in Luton at 18:12, which will be marked by celebrations showcasing the town's heritage and culture.
Dunstable will be visited at 07:44 on 9 July before the flame heads into Buckinghamshire, visiting Milton Keynes, Bletchley, Buckingham, Winslow, Whitchurch, Aylesbury, Stoke Mandeville and Waddesdon.
The route through Buckinghamshire will also take in World War II codebreaking centre Bletchley Park and Stoke Mandeville stadium, seen as the birthplace of the Paralympics.
The torch will be carried by 8,000 people on its 8,000-mile route to the London 2012 Games.
Each torchbearer will wear a white and gold uniform which has been designed for the occasion by Adidas.
Bedford Modern School pupil Marcus Burnett has been chosen to be a torchbearer.
The 13-year-old was nominated after supporting his younger brother, Jack, who was diagnosed with acute lymphoblastic leukaemia in July 2007.
With the support of his family and friends, Marcus has helped to raise more than £35,000 for Leukaemia and Lymphoma Research.
"I could not believe it when I found out that I had been chosen," he said.
"This is a great honour and a once-in-a-lifetime opportunity - I can't wait."
The flame will enter the Olympic Stadium during the opening ceremony on Friday, 27 July, when the last relay runner will transfer it from their torch to the Olympic cauldron.
It will then continue to burn until it is extinguished on the final day of the Games.