Full House Theatre Company in cyberbullying play tour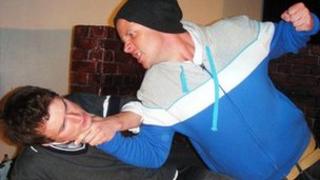 A Bedfordshire theatre company with a dramatic way of tackling cyberbullying is taking its project to Luton schools.
The Full House Theatre Company's play about internet safety, A Little To The Left of Centre, deals with a range of issues that young people face online, including bullying, homophobia and anti-social behaviour.
The play is aimed at 11 to 13-year-olds and follows the story of a teenage boy and his transition into high school, where tensions build as his best friend gradually becomes a victim of bullying.
Artistic director Ben Miles said: "It's about thinking about others, keeping the friends that you have had since you were young and not just looking out for yourself."
Funded by the Nominet Trust, a charity which champions the internet, the play encourages young people to make their own judgements based on the scenarios that are presented to them.
Touring 12 Luton schools in March, each performance is followed by a workshop in which the themes raised in the play are discussed further.
'24/7 issue'
The Bedfordshire born director said that the play had come about because he and co-director Harriet Hardie felt that awareness of cyber bullying and the use of homophobic language needed to be raised.
"It's important to get young people discussing such issues because cyberbullying is a 24/7 issue and doesn't stop at the end of the school day," said Mr Miles.
"It just goes on constantly. People can be texting you, leaving prank phone calls, making comments on your photos online and it can be really damaging and really upsetting for young people, so we're here to advise them and let them know what to do."
He revealed that one of the key messages about the play was highlighting the dangers of making "friends" with people you have never met on social networking websites, just to make yourself seem more popular.
"We stress that you should only be "friends" with those people who you actually know," he said.
'Better choices'
Research by the University of Plymouth in 2011 indicates that this kind of message is important.
It showed that 60% of its young respondents had not read the privacy policies of the websites they used and, of those, about a third did not know what a privacy policy was.
Actor Suzanne Nixon commented: "We're just helping the young people make better choices with their social networking, making sure privacy settings are set correctly so not everybody can see what you're up to or where you live."
Nominet Trust's chief executive officer Annika Small said it was important to help teenagers deal with potential risks.
"Used sensibly and with care, [digital technology] provides opportunities for education, for fun, and for driving change amongst our peers and in our communities.
"Like with any life tools, we need to know how to use it safely."