New Inn Stowe visitor centre rebuild complete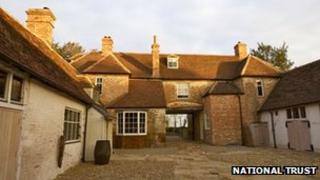 A £9m project by the National Trust to restore a Buckinghamshire coaching inn has been completed.
The New Inn, built in 1717 by Lord Cobham, is the original entrance to the 250-acre Stowe gardens and house.
Acquired in 2005, the inn has been rebuilt and is now a visitor centre which the trust believes will attract up to 160,000 people a year.
"Until now, we were lacking a heart to the property," said Stowe property manager David Brooks.
'Local heritage'
The reconstruction was carried out after extensive research into the original design of the building.
Experts used photographs, drawings and historic documents to research 18th Century materials and construction methods.
"Stowe finally has a visitor centre worthy of the gardens themselves which has also allowed us to save an important piece of local heritage," said Mr Brooks.
Original materials including clay tiles, bricks and timbers were salvaged from the derelict building and used in the restoration project.
The rooms have been furnished with original Georgian furniture wherever possible.
"Rebuilding the New Inn means that visitors can now follow in the footsteps of the original Georgian tourists," added Mr Brooks.
The restoration was funded by an award from the Heritage Lottery Fund, fund-raising initiatives and private donations.