Investigation into Bushey sheltered housing fire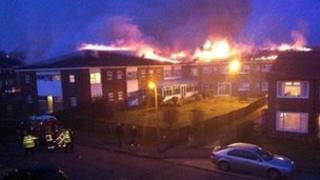 An investigation has been launched into the cause of a fire at a sheltered accommodation unit in Hertfordshire.
The fire started at Storey Court in Barley Close, Bushey, at about 17:00 GMT on Tuesday and the building was evacuated.
The 100 residents were safely led to a nearby reception centre after smoke alarms alerted them to the blaze.
About 80% of the building's roof was destroyed. Hertfordshire County Council is providing alternative accommodation.
Storey Court is run by the Aldwyck Housing Group, made up of two floors of self-contained flats.
Fire crews found the second floor well alight when they arrived at the scene.
Richard Thake, the council's cabinet member for community safety, said: "I would like to take this opportunity to remind residents of the importance of having working smoke alarms in their properties.
"This incident is a prime example, where the smoke detectors gave early warning of the fire, which allowed everyone to escape unharmed."