'Suspicious men' seen after Fishermead shooting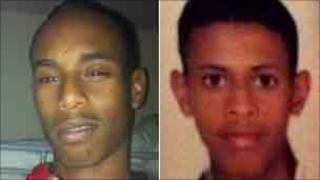 Men were seen acting suspiciously after two teenagers were shot in Milton Keynes, a court has heard.
Mohammed Abdi Farah, 19, and Amin Ahmed Ismail, 18, were both shot in the head in a Fishermead alleyway in May 2011.
A witness told St Albans Crown Court he had heard the shots, looked outside and seen a group running down the alleyway.
Yahya Harun, 21, and Sharmake Abdulkadir, 21, both of Milton Keynes and Fuad Awale, 24, of no fixed address, deny a charge of murder.
Mr Abdulkadir, of The Fleet, Springfield, has also denied possessing a firearm with intent to endanger life.
'Fiddling with something'
The court has heard Mr Farah, from Birmingham, and Mr Ismail, from Ealing, London, who were of Somali origin, were shot just after 22:00 BST on 26 May.
Ben Gumpert, prosecuting, has said the killings stemmed from a "drugs turf war" and a witness would tell the jury Mr Farah had been handing out free cannabis on the Saturday before he died.
Mr Farah died at the scene, while Mr Amin died in hospital soon after.
A witness, known to the court only as Charlie, said he was at home when he heard the fatal shots, and had looked out his window to see five people running down the alleyway.
"They stopped under a street lamp," he added.
"It was a bit suspicious.
"There were standing in a circle... they looked like they were fiddling with something."
Charlie said a 5ft 3in man, who the prosecution say is Mr Awale, then ran back to the alleyway and after about three minutes ran back to where one of the men was waiting.
"Whether it was Fuad Awale, Sharmake Abdulkadir, Yayar Harun or another of the group of five who actually fired the shots which killed the two victims is not of the first importance," Mr Gumpert added.
"The prosecution case is that all three defendants were part of a joint enterprise."
Mr Gumpert said for "different reasons" the other two in the group are not on trial.
The case continues.