Toddler Emily Warner 'accidentally hanged by blind cord'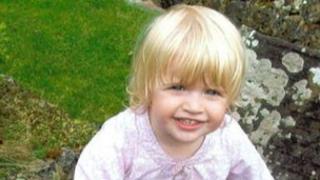 A toddler from Hertfordshire died after a "tragic accident" in which she was hanged by a window blind cord, an inquest has ruled.
Emily Warner, two, was found lifeless with the blind cord around her neck at her home in Royston on 25 August.
Despite efforts to resuscitate her, Emily suffered brain damage and died on 1 December.
Coroner Edward Thomas recorded a verdict of accidental death.
Emily's parents have since supported a leaflet campaign highlighting the dangers of blind cords.
The inquest at Hatfield Coroner's Court earlier heard Emily had gone to bed on 25 August and her brother James was put to bed shortly after.
Emily's father, Jamie Warner, told the inquest he heard his daughter playing in her bedroom upstairs about 15 minutes later.
He then heard a bang in James' room and he went in to tell him to be quiet.
Brain damage
"He went then to check Emily and this is when he saw her on the windowsill on tiptoes," Mr Thomas said.
"He realised there was something wrong, she did not respond to him when he had gone in and told her to get down."
Mr Warner then noticed the blind cord around Emily's neck, the inquest heard.
Mr Warner shouted to his wife Tracey and the pair tried to resuscitate Emily, who was taken to Addenbrooke's Hospital in Cambridge.
But the toddler had suffered severe brain damage and was unable to walk, talk or feed herself, the inquest was told.
She had made some improvement but died on 1 December of medical reasons stemming from her brain injuries.
Mr Thomas said police found no circumstances to suggest Emily's death was anything other than a "tragic accident".
Giving a verdict of accidental death, he praised Emily's family for their efforts to save her and their involvement in a safety campaign to prevent similar deaths.
"I cannot begin to understand how awful this must have been for you," he said.
"I do want to assure you that everything you did when you found her was entirely correct.
"I applaud you for trying to help other people avoid the pain, not have the experience and undoubtedly awful pain that you have."