Milton Keynes homeless given 'designer' underwear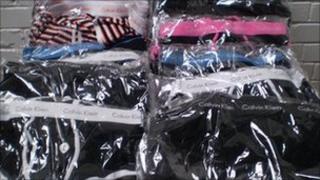 Homeless people in Milton Keynes will be wearing counterfeit copies of designer underwear, thanks to Trading Standards.
Designer Calvin Klein gave permission for the fake items to be given to the town's Winter Shelter Night Project, rather than be destroyed.
Milton Keynes Trading Standards has donated more than 500 items to the project for those sleeping rough.
The items were among more than 2,500 seized last year in raids.
Karen Ford, head of Trading Standards at Milton Keynes Council, said the team tried to recycle seized goods "as far as possible" rather than seeing them end up in landfill or go to incineration.
She said the designers had given permission for the goods, which were seized from a market stall in Milton Keynes, to be handed over without being "de-branded".
'Protect brand'
"[It] is unusual because usually they want to protect their brand as far as they possibly can, but it was such a worthwhile cause that they were quite happy," she said.
"It is hoped that with the agreement from trademark holders, we can continue to support local charities wherever possible."
Ms Ford also confirmed the charity had "good control" over the goods, to prevent them being used for further criminal activity.
"What we have asked through the charity is that the items are handed over individually and not left around in bulk so that they can be sold on street corners or anything like that," she said.
The Winter Night Shelter Project uses seven church buildings across the city and with the help of volunteers, provides emergency overnight accommodation for up to 15 people per night who would otherwise be sleeping rough.
This winter the project has helped more than 50 of Milton Keynes' most vulnerable residents by offering shelter, hot food and warm clothing.