Man jailed over rare bird sales in Bedfordshire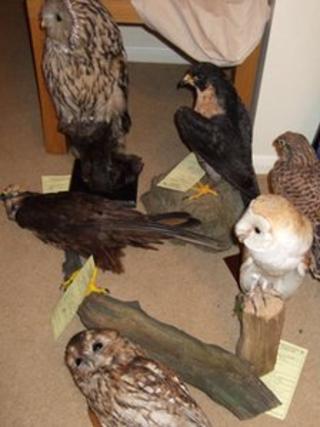 A Bedfordshire man has been jailed for eight months after pleading guilty to 13 offences involving the illegal trade of endangered wildlife.
Greg Turner, 32, of Astwood Close, Potton, appeared at Luton Crown Court after stuffed birds of prey were found at his home.
The birds included a Red Kite, Marsh Harrier and Peregrine Falcon.
Turner also admitted selling a Goshawk, a Kestrel, five Barn Owls, three Tawny Owls, a Little Owl and a Hawk Owl.
Officers from Bedfordshire Police and the National Wildlife Crime Unit raided Turner's home in September 2009.
As well as the stuffed animals, they found forged paperwork and a computer.
'Blatant flouting'
Examination of the computer showed Turner was copying official documents and had used the forgeries to sell well over 100 specimens without authority to buyers in the UK, Europe and as far away as the USA and Canada.
Turner pleaded guilty to 12 charges of selling endangered species under Regulation eight of the Control of Trade in Endangered Species (Enforcement) Regulations 1997 and one charge of having items in his possession for use in connection with fraud under Section 6 of the Fraud Act 2006.
Alan Roberts of the NWCU said: "This conviction reflects Turner's blatant flouting of regulations set in place to protect some of our most vulnerable birds for his own gain.
"Bird of prey persecution is one of the UK wildlife crime priorities and this will send the message that such behaviour will be taken seriously and dealt with accordingly."