Family tribute to Hertfordshire teen killed at crossing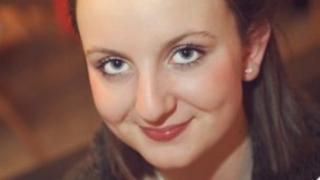 The family of a teenage girl killed at a rail crossing in Hertfordshire have said she had "everything to live for".
Katie Littlewood, 15, died when she was hit by a train at Johnson's Footpath Crossing in Bishop's Stortford at 11:45 GMT on Saturday.
Her death is being treated as a "tragic accident", British Transport Police said.
In a statement, Katie's family said she lived life to the full.
"Katie was a beautiful, intelligent and talented girl and her tragic death, aged only 15, has devastated all of her family and friends."
'Talented musician'
At the time of the incident, Katie, who lived in Bishop's Stortford, was on her way to a charity shop where she volunteered every week.
"She was very fond of dogs and also volunteered at a local animal shelter," the statement read.
"She was a talented musician, playing several instruments to a high standard and was also a gifted public speaker with a natural talent for comedy."
A tribute page has been set up in Katie's memory by friends on Facebook, describing her as a "funny character and an inspiration to all of us".
A spokesman for Network Rail said investigations carried out immediately after the incident showed no faults with safety measures in place at the crossing where Katie was killed.
Flashing lights, audible warnings and signalling systems were all operational, a spokesman said, and there were no problems with the fence and gate at the crossing.
Both Network Rail and British Transport Police are treating Katie's death as non-suspicious and accidental.