Girl, 15, killed at Bishop's Stortford railway crossing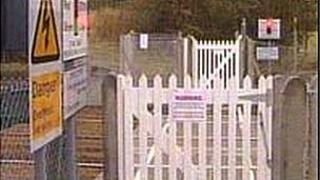 A 15-year-old girl was killed when she was hit by a train at a foot crossing in Hertfordshire, police have said.
The girl was struck at Johnson's Footpath Crossing in Bishop's Stortford at about 11:45 GMT on Saturday.
Her death is being treated as a "tragic accident", British Transport Police (BTP) said.
Concerns had previously been raised about the crossing after a previous death which led to improved safety measures being installed in 2003.
The girl, who has not been named, is said to come from Bishop's Stortford. Her next of kin have been informed.
A BTP spokeswoman said the death was not being treated as suspicious. An investigation into the incident is under way.
A gate and flashing lights were installed at the site after an 81-year-old woman was killed in 2002 while walking across the track with her dog.
'Potential for accidents'
In 2005, Olivia Bazlinton, 14, and Charlotte Thompson, 13, died at nearby Elsenham station, a few miles from Bishop's Stortford, when they were hit by a train while making their way to Cambridge on a shopping trip.
Jill Sortwell, 64, who lives next to Johnson's crossing in Cannons Close, said residents had been worried about the site for years.
Fears were heightened with the introduction of the high-speed Stansted Express, she said.
"We have had quite a few fatalities on this line," Mrs Sortwell said. "It is a direct route into town.
"It is used all day, every day and people become blase, especially the youngsters."
Mrs Sortwell was one of a number of residents who urged former transport secretary Ruth Kelly to introduce a buzzer warning at the crossing and new, track-side gates.
But she still feels more needs to be done to make the crossing safe.
"I think it is still dangerous," she said. "The crossing is better now but it still has the potential for bad accidents to happen."
The BTP spokeswoman said investigators would be looking at all factors surrounding how the girl died.