Bones on Milton Keynes building site 'could be Roman'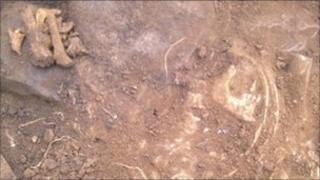 A set of bones discovered on a building site in Milton Keynes could be Roman, said a council archaeologist.
The remains of more than one person have now been discovered at the Taylor Wimpey development in Oakridge Park.
The bones of one skeleton were first unearthed by workers on the site two weeks ago.
Forensic archaeologists established that the remains were not of recent origin and therefore not of police interest.
Shortly after the bones were first unearthed, the council's senior archaeological officer Nick Crank said that the only certainty was that the skeleton was older than about 70 years.
'Superficial similarities'
He said this was beyond the age that the police would be interested in them, but it was "highly possible" that they were much older.
He has now revealed that they could date back to the 5th Century, because the discovery bears some resemblance to excavations made in the mid-1980s in Wolverton.
"You can see there are some large stones which may be placed around the outline of this [discovery] forming what we refer to as a 'kist' burial," he said.
"The only 'kist' burials I'm aware of from the immediate vicinity were excavated as part of the Bancroft Roman Villa and Mausoleum site and they dated to the very late Romano-British period [43-410 AD].
"So they are potentially late Roman, but I'm just going off superficial similarities of other sites."