Wimbledon fan MP says Milton Keynes 'should drop Dons'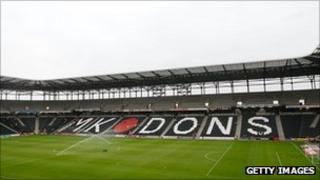 A south London MP has urged her fellow MPs to back a campaign for Milton Keynes Dons Football Club to drop the word "Dons" from its name.
The term was adopted after the original Dons, Wimbledon Football Cub, relocated to Milton Keynes in 2003.
Siobhain McDonagh, MP for Mitcham and Morden, said it was a symbol of how the club's identity was "stolen".
She used the case as an example in a 30-minute Parliamentary debate about football governance.
"I want ministers to remember the case of Wimbledon when they look at how football should be governed," she said.
"It shouldn't be possible for clubs to just up sticks and leave the communities they are supported by."
Controversial decision
Wimbledon FC relocated to Milton Keynes in 2003 following years of wrangling over whether they could find a suitable new home ground in south London.
The controversial decision angered Wimbledon supporters and other football fans.
"Wimbledon" was dropped from the club's name in 2004 and it became Milton Keynes Dons.
The League One club returned replica trophies of Wimbledon FC's honours to the London Borough of Merton in 2007.
AFC Wimbledon, formed by supporters, has risen through the leagues since 2002 and the club was promoted to League Two last season.
In the House of Commons debate, Sports Minister Hugh Robertson paid tribute to AFC Wimbledon.
He said: "It is an example of what can be achieved through the power and determination of supporters."
Ms McDonagh wants the government to ensure any changes to the rules about how clubs should be run, currently being considered by the football authorities, would guarantee that clubs cannot ignore the communities which support them.
She said she would back calls from the organisation Supporters' Direct for communities to be represented formally in the running of clubs as part of licence conditions.
'Running sore'
Ms McDonagh, an AFC Wimbledon supporter, wants MPs to support the Wimbledon Guardian's "Drop the Dons" campaign which states that this would "remove much of the stigma associated with that club".
She said that now AFC Wimbledon had reached the Football League, it was time for the club to take action to reclaim its identity.
Milton Keynes Dons FC declined to comment on the situation but MK Dons' fan and former Fizz fanzine editor, Franco Volpe, said he was "bemused" by the subject being brought up again.
"It's a non issue. As far as Milton Keynes Dons supporters are concerned we're not going to change our name," he said.
"The [FA] commission that allowed the move in the first place recommended that we kept the identity of the old Wimbledon and [club owner] Pete [Winkleman] did that when he called us the Milton Keynes Dons.
"The Dons is our identity, it's where we came from and it's wrong to just take the club and decide that you don't want to be involved with what's happened in the past."