Bletchley Park marks Alan Turing centenary with stamp issue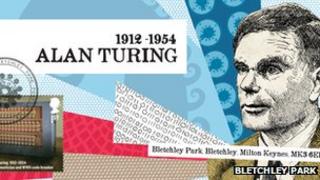 Bletchley Park Post Office has announced plans to issue four limited-edition first day covers to celebrate Alan Turing's centenary year.
Turing worked as part of the team which cracked the Enigma code at Bletchley Park in World War II and helped create the world's first modern computer.
The covers will carry a 1st class Royal Mail "Turing Bombe" stamp, cancelled with a unique postmark.
Proceeds will help the restoration of the Buckinghamshire site.
The four designs, which will be released on 23 February, portray Turing's work on the mathematics of patterns in nature and buildings at Bletchley Park associated with the computer pioneer.
The Royal Mail stamp features the rebuilt Turing Bombe which is on display at Bletchley Park.
The first day of issue postmark is a facsimile of one of the Bombe's 36 drums marked with the letters of the alphabet.
Bletchley Park Post Office was the codebreakers' undercover mail room during World War II.
The re-created 1940s post office is now a popular tourist attraction.