John Lewis expansion plan criticised by English Heritage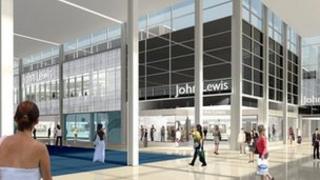 Plans to extend a Grade II listed store in Buckinghamshire have been criticised by English Heritage.
John Lewis is seeking to extend its Milton Keynes store into Middleton Hall in the centre:mk by 3m to improve the "shopping experience".
The plans will alter the facade of the store and increase the sales area.
English Heritage said the £20m development would affect the architectural significance of the building.
In a statement the organisation said: "As a proportion of the store as a whole, the space gained through these proposals would be very small.
"We believe it is possible to carry out the refurbishment that John Lewis require, without causing this harm."
Paul Hunt, managing director of John Lewis Milton Keynes, said the proposed changes would be carried out "sensitively" to ensure they were in keeping with the surroundings.
"We have been in the town for over 30 years and are committed to staying here, so want to significantly improve the shopping experience for our customers and help to encourage additional shoppers into Milton Keynes and the centre:mk," he said.
If the plans are approved, construction would start in spring 2012 and is expected to take seven months.