Tring museum replica rhino horn theft: Man charged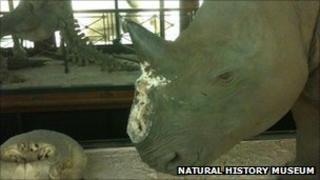 A man has been charged with the theft of two replica rhino horns from the Natural History Museum in Tring, Hertfordshire.
Darren Bennett, 40, of Battenberg Road, Leicester, was charged with burglary after a break-in at the museum on 27 August last year.
Museum staff had replaced the real £240,000 horns with ones made of resin before the burglary took place.
Mr Bennett is due to appear in court at a date yet to be set.
Real rhino horn can fetch £60,000 per kg in the Far East where it is prized for its supposed medicinal qualities.