Atlantic 4 set record for youngest rowers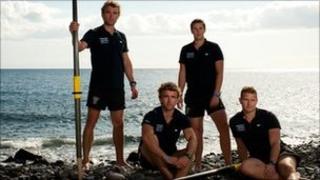 Four men are celebrating after arriving in Barbados as the youngest four-man crew to row across the Atlantic.
Greg Symondson, 22, from Buckinghamshire; Adam Wolley, 23, of Suffolk; and Ross and Hugo Turner, 23, from Exeter, were taking part in the Woodvale Transatlantic Rowing Race.
The team, called the Atlantic 4, left the Canary Islands on 5 December.
They crossed the finishing line in third place at 11:34 GMT on 16 January after covering 2623nm.
Of the 17 teams which started the race, six had to drop out during the challenge.
The Atlantic 4 crew spent a total of 41 days, 23 hours and 34 minutes at sea in a 29-foot long (8.8m) boat that is just 6ft (1.8m) across at its widest point and also reached their goal of raising £250,000 for Spinal Research.
With a combined age of 91, the team are the youngest four-man crew to row across the Atlantic but Ross and Hugo Turner are also the first twins to row across any ocean in the world.
Atlantic rowers celebrate reaching Barbados
Jem Symondson, Greg's father, said; "Over the last week or so it has been difficult to think or concentrate on anything other than Greg and the rest of the crew of The Atlantic4.
"Today is probably the proudest, most emotional and memorable day of my life."
The crew met in 2008 while studying at Loughborough University and had been working on the project for about 15 months.