Queen's Jubilee wood at Waddeson Manor needs volunteers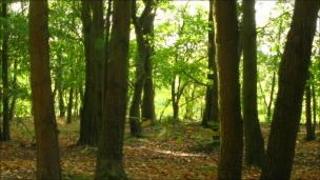 The Woodland Trust is calling for volunteers to help plant a new wood in Buckinghamshire to mark the Queen's Diamond Jubilee.
The charity's Jubilee Woods project aims to create 60 commemorative woods across the UK.
More than 23,000 saplings will eventually be planted on the 60-acre site at Waddesdon Manor near Aylesbury.
"We can only make this project successful with everyone's help," said project manager, Georgina McLeod.
"We want to give people the chance to plant trees and we're appealing to our supporters, community groups, individuals, organisations and businesses, to help make this happen," she said.
'Growing monument'
The trust will hold regular public planting sessions at the manor across the year.
Paul Farnell, head gardener at Waddesdon Manor, says the project is an ideal opportunity for the public to help create a natural habitat for native species and learn how wooded areas grow and change.
"What better way could there be to celebrate the Queen's Jubilee than by creating a living, growing monument that will provide benefits to the community and create a bio-diverse habitat for British wildlife for many years to come," he said.
The first community tree planting session will take place at Waddesdon Manor on Saturday 11 February.