Obese patients asked to lose weight before surgery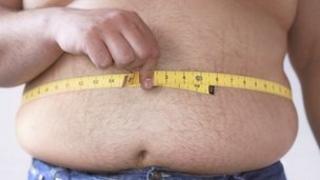 Obese patients in Hertfordshire are being asked to lose weight before they can be listed for routine surgery.
NHS Hertfordshire has introduced the policy because of "strong clinical evidence" that obese surgical patients have a higher risk of complications.
These include breathing problems, infections and longer recovery times.
"For these health reasons, in this area, patients will not be booked for routine surgery until they have lost weight," said a statement.
'We're not refusing'
The measures do not apply to people needing emergency surgery such as cancer treatment.
The NHS trust said patients would not be refused an operation if they could not shed weight, but GPs would work with them to try to help them do so.
Patients will be provided with information on what support is available to help them lose weight before surgery and to continue with their weight loss afterwards.
Watford GP Dr Sheila Borkett-Jones said: "We're not refusing the operation, we're just asking them to get better prepared for [it].
"If I know a patient of mine is going to be subjected to vastly increased risks during an operation, or they are susceptible to developing some of these long-term illnesses that make life more complex for them and actually lead to premature death, I think I'd be failing in my duty if I didn't point out to them that they need to learn to live more healthily and lose weight."
GPs will not ask patients to be below a certain BMI, instead they will be given individual targets.
'Reduce the risks'
Dr Tony Kostick, who chairs East and North Herts Clinical Commissioning Group, said: "A relatively small weight loss can reduce the risks of surgery quite dramatically and we will be looking for that first.
"But the more you lose the better it will be - not just for when you have surgery but for long-term good health."
Smokers will also be asked to attend an appointment with a specialist adviser to make them aware of the particular risks that surgery presents for them.
Dr Nicholas Small, who chairs Herts Valleys Clinical Commissioning Group, said: "This will mean that patients will be in a better position to make an informed decision about stopping smoking before surgery.
In April 2011, NHS Hertfordshire issued guidelines to say that patients requiring hip and knee joint surgery should have a BMI under 35. The trust says this new policy replaces the previous guidelines.