Headache sufferer 'abandoned' after electrode treatment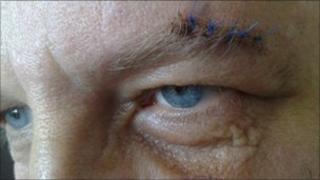 A man who had electrodes implanted on his brain in a bid to treat chronic headaches said he felt abandoned after the equipment stopped working.
Jeffrey Diggines, from Milton Keynes, was one of the first in the UK to have Occipital Nerve Stimulation (ONS).
The internal apparatus is now faulty and while manufacturer Medtronic will supply a new kit, it will not pay for the operation to replace it.
The NHS will not fund the procedure in case the equipment fails again.
"I feel abandoned by the primary care trust or whoever for not funding me and by Medtronic definitely for not having a guarantee that covers operational costs," said Mr Diggines.
"The hospital are doing all they can but their hands are tied because there is no money there."
'Constant pain'
Mr Diggines was diagnosed with new daily persistent headache in 2000 before having the ONS treatment in 2005 at London's National Hospital for Neurology and Neurosurgery.
The implanted electrodes were connected to a battery inside his body, which stimulates them to tackle the pain.
He was the 13th person in the UK to have the £25,000 treatment, which was paid for by the NHS.
Two years ago a new rechargeable battery was put in, but found to be faulty, leaving him in almost constant pain and unable to work.
"It's difficult to explain the pain levels, it's incredible how much pain you can have in your body and when the pain is in your actual brain it just tears you apart," he said.
Faulty equipment
An operation to replace the battery would cost in the region of £5,000 but the NHS has refused to pay.
"The PCT said it's not necessarily the money they shouldn't spend, it's rather that they don't want to spend it on faulty equipment," said Mr Digganes.
He said he would like to see Medtronic pay for the one-off procedure.
A statement from Medtronic said it was investigating why the system did not perform as expected.
"So far we have not found any reason for the device not to be working, but in the best interests of the patient we have agreed to provide a system free of charge to the hospital while we continue to investigate the device," it read.
A spokesperson for NHS Milton Keynes said: "The clinical considerations that formed part of this process are such that we are unable to discuss the specifics of Mr Diggines' case.
"However, he has been supplied with a complete explanation of why the panel decided not to fund this treatment."