HS2 protest song makes the top five of a national music chart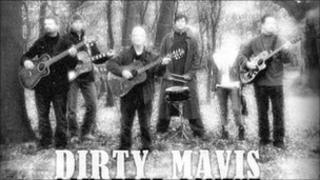 A protest song about the proposed High Speed 2 rail line by a Buckinghamshire band has made it to the top five of a national chart.
Oak Tree Lament was written by Martin Davis of band Dirty Mavis, who have had no airplay and only play a handful of gigs a year.
The song, which Mr Davis was inspired to write after a chance meeting with an anti-HS2 campaigner, is now the fourth most popular song on the HMV download chart.
"We have some loyal supporters locally and once people got wind of it they have done a great job spreading the word," he said.
High Speed 2 is the proposed rail link between London and the North.
Protesters are opposing the plan on the grounds that they feel it does not make good business, economic or environmental sense.
Official protest
Mr Davis, 56, from Great Kingshill, offered to write the official protest song after meeting Joe Rukin, a leading campaigner against the rail line, while out walking his dog.
"I knew very little about it [HS2] but googled the route and walked around the Great Missenden area trying to see what it would be like from the point of view of a tree," he explained.
"I do all my songwriting in the car and on one drive, the song was done by the time I reached Northampton!"
He said that when other members of the six-piece band heard the results, which include the lyrics "£30bn is the cost, far away beyond belief, and look across my valley, it's like a pound for every leaf", they thought they needed to "put it out".
The song debuted at the Speen Festival, where Mr Rukin, who is chair of the event, suggested that they release it as a single.
It is now available on four music retail websites after people discovered the song on the band's own site and the official Stop HS2 site.
Mr Davis said that he has not yet got the sales figures but was "bowled over" when he got a phone call informing him of the chart position, outselling Coldplay, Bruno Mars and Amy Winehouse.
"We've no record deal, no sponsorship and no airplay from any UK radio station, this is just an original English folk song written, performed, produced and promoted entirely by the band itself," he said.
Mr Davis also revealed that he will be donating 50% of the download profits to anti-high speed rail campaign funds.