Neglect at Milton Keynes Hospital led to death of boy, five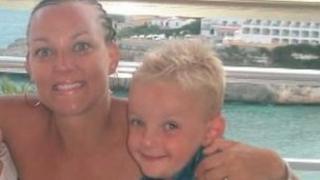 "Gross failures" by a hospital contributed to the death of a five-year-old boy, a coroner has ruled.
Harry Mould, of Buckinghamshire, was admitted to Milton Keynes Hospital after an asthma attack in March 2009.
He was transferred to Leicester Royal Infirmary the next day, and died there four days later.
Deputy Leicester coroner Donald Coutts-Wood recorded a narrative verdict and said Harry had died of natural causes, contributed to by neglect.
An investigation began two years ago after a whistle-blower raised concerns about Harry's care.
'Missed opportunities'
His family, from Greenleys, had waited since 2009 for the inquest to resume and claimed he was not checked regularly by staff at Milton Keynes.
The two-week inquest had heard there were missed opportunities to monitor Harry after his admission on 26 March, and to detect that his condition was deteriorating.
There was a critical period between 20:30 and 21:35 GMT on 27 March when he was not receiving the required observations, Mr Coutts-Wood heard.
The coroner said that amounted to a "gross failure" to provide Harry with the basic medical attention he required.
He said the failures had a clear and direct connection to the death, and that Harry would probably have survived had he been monitored more closely.
'Failed to listen'
Harry was transferred for specialist treatment but died of a lack of oxygen on 31 March.
Martin Wetherill, the hospital's medical director, apologised to Harry's parents and said staff had "failed to listen" to their concerns while Harry was in their care.
"We have learned from this that we must listen to families and we will be concentrating now on improving our communications with our patients," he said.
The hospital now has two fully-staffed high dependency beds, expanding to four in February, to give very ill children "increased clinical attention at all times", he said.
It has also "substantially improved its paediatric early warning system", which aims to alert staff if there is cause for concern.
Harry's mother, Odette Mould, told the BBC: "I just want them [the hospital] to change and use this as a learning curve, and for Harry to have made a difference.
She added: "I did take the apology on oath as sincere, but I think it came from the wrong person, and very late.
"We weren't listened to. Our main aim is to get Jessica [Harry's twin] the support she needs."