Downturn increases foodbank use in Milton Keynes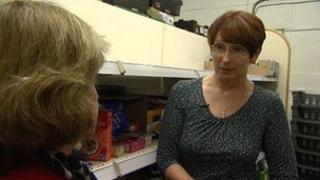 The harsh economic climate is meaning more and more people are having to resort to foodbanks to help themselves and their families survive, a BBC study in Milton Keynes has revealed.
BBC Inside Out in the East talked to those using and running the foodbank in Milton Keynes - which has given out 63% more food packs than last year.
About 100 tonnes of food has been donated to the food bank this year - almost double the amount last year.
Volunteers have helped distribute 6,000 food parcels, and expect to have handed out 9,000 parcels by the end of the year.
The food bank aims to provide help to "people in genuine need", with the aim of tiding them over for a few days.
'Affluent place'
GPs, the Citizens Advice Bureau and other similar agencies can decide that a person is in need of help and send them to the food bank - 41% of the adults are aged between 26 and 40, 28% are aged between 16 and 25 and 25% aged between 40 and 60.
Sue Wall took a pay cut to work for the foodbank and is one of two staff paid by the charity.
More than 50 volunteers help with packing and delivery, running five serving centres across Milton Keynes.
Ms Wall believes it is one the largest foodbanks in England, even though the town is not noted for its deprivation or poverty.
"I think Milton Keynes is an affluent place certainly.
"If you come to Milton Keynes you wouldn't see the areas of poverty but they are there, behind the tree-lined boulevards," she said.
"The food bank provides emergency help for local families, up 63% on last year.
"With the prices of food and heating costs going up there's less money for people to spend on feeding their families."
'Very desperate'
Michael Parker is one of those who been helped by the scheme.
He was unemployed after a heart attack and a stroke and struggled to find enough money to feed himself and his daughter.
"It has been very desperate. At one time I had one can of beans and two slices of bread," he said.
"I've had that a couple of times and I kept that for my daughter because she should have it first.
"I've had no food in the cupboards, I was down to my last 30p and then this hamper turned up from the foodbank."
Milton Keynes foodbank helped him with a hamper of food to keep him going for three days.
Mr Parker is now supporting himself and his daughter and hopes he will not need to turn to the foodbank again.
"I hope my daughter never has to go hungry again, but I know the food bank in Milton Keynes is there if need be.
"It is a struggle to get a better life, it's taken me a while."
The full report is on BBC Inside Out in the East at 19:30 GMT on Monday.