Rower Greg Symondson's Atlantic race attempt delayed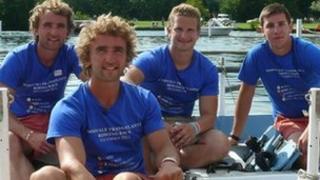 A Buckinghamshire man's plans to row across the Atlantic have been delayed due to adverse weather conditions.
Greg Symondson, 22, from Speen, Adam Wolley, 23, and twins Ross and Hugo Turner, 23, from Exeter, are taking part in the The Woodvale Transatlantic Rowing Race.
The race was due to start from the Canary Islands on Sunday at 12:00 local time.
The crew now hope to set off later on Monday.
"When we were at the start line yesterday, it was really rough," said Mr Symondson's father Jeremy.
"There's no way they could have gone out in that."
The race will see the rowers spend about 50 days in a 29-ft long (8.8m) boat that is just 6ft (1.8m) across at its widest point.
If the crew successfully reach Barbados in early February, they will be the youngest ever four-man team to row the Atlantic.
Totally unaided for the entire eight-week journey, the crew hope to raise £150,000 for Spinal Research.