Milton Keynes shopping centre plans anger campaigners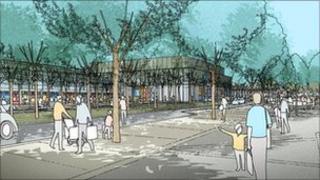 Plans for an extension to Milton Keynes shopping centre have prompted an angry response from campaigners.
Proposals for the £30m development of thecentre:mk include two new shops and a relocated market.
They also involve the destruction of Secklow Gate Bridge, which campaigners fought to re-open after a fire.
Developers said the proposals "provide quality and diversity" but action group Xplain said the plans showed disregard for the people of Milton Keynes.
To accommodate the plans, it is proposed to remove the southern side of the bridge and level Midsummer Boulevard to improve connections between the shopping centre and the rest of the town.
Milton Keynes Council spent an estimated £213,000 to re-open the bridge after it closed following a fire in January 2010.
The new development is also set to create more than 400 retail jobs with an additional 250 people employed over the project's construction period.
Campaigners do not want the market to be moved and say that the town does not need more shops.
Linda Inoki, of Xplain, the group behind the campaign to get the bridge re-opened, said she thought the proposals showed a "chilling disregard for not only the market but the people of Milton Keynes".
Market 'brings choice'
"That area is looking rather tatty but we don't have to demolish our infrastructure and banish the market, just because it needs a bit of investment," she said.
"They don't have the long-term interests of the people and the city itself at heart. The market brings choice, dynamism, vitality, colour, something special. Why do we need another chain store? If we need it, put it somewhere else."
Director for thecentre:mk Robert Hall said: "The [new] location we have for the market sits tightly to the building itself so our guests moving out of thecentre:mk will still be passing through and engaging with that market.
"We are not moving them 300 yards away, we're staying adjoining to that area and it's great retail space."