Hazeley Academy teacher hurt in science lab test fire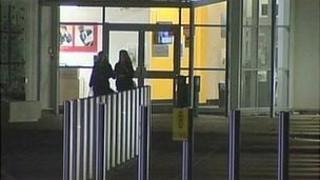 A teacher and a six-year-old child were injured when a science experiment went wrong, a school has said.
The 35-year-old woman's clothes were set on fire while rehearsing a "tried and tested" demonstration at the Hazeley Academy, in Milton Keynes.
She is said to be in a stable condition after being airlifted to hospital at about 13:10 GMT on Wednesday with burns to her face and body.
The boy, a child of another teacher, escaped with minor injuries.
The school, which became a science specialist college in 2008, was closed to pupils in years seven to 11 at the time of the incident due to Wednesday's strike action.
In a statement, the school said: "A science teacher is reported to have been in a prep room rehearsing a routine, tried and tested demonstration involving a flammable substance, when some of her clothing was ignited.
'Ball of flame'
"The sequence of events that gave rise to the incident itself is not yet clear. The Health and Safety Executive are carrying out a full investigation and, until that is complete, there will be nothing further to report."
The school said the boy, who suffered superficial burn injuries to his face, had been discharged from hospital.
A spokesman for Buckingham Fire and Rescue Service confirmed the incident had been sparked by an experiment.
"It was what appeared to be an experiment in a science lab which caused a ball of flame.
"It was a flash fire which injured two people who were presumably quite close to it."
Year 12 and 13 pupils and some teachers were at the school at the time.
No academy students were involved in the experiment.
Staff at the scene administered first aid before paramedics arrived.
Richard O'Leary, of the GMB union, said guidelines should be issued about taking children to school when strike action was taking place.
"Unless there is progress in the talks on pensions there are likely to be further days of stoppages," said Mr O'Leary, who represents support staff at the school.
"In these circumstances, it is essential that the governors of this academy and other schools in the area set out strict guidelines on employees bringing their children to work with them when there is industrial action in other schools."