Luton's Marsh Farm estate £750,000 land sale probed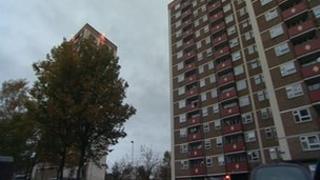 A £750,000 sale of council land on a riot-hit housing estate is being investigated over claims it breached funding regulations.
The BBC's Inside Out programme claimed the deal for the site, on Marsh Farm, in Luton, had broken rules over how a £50m regeneration grant should be used.
Luton Borough Council said all spending on the estate, blighted by riots in the 1990s, had been government approved.
A government spokesman said the programme's claims would be examined.
The New Deal for Communities (NDC) scheme saw £50m pumped into the 1960s estate over the past 10 years.
Marsh Farm Community Development Trust, which was set up to distribute the money, ceased to be earlier this year when the funding ended.
Spending by the trust was overseen by the borough council and was intended for use on regeneration projects.
Affordable housing
But programme makers said a deal over a piece of council-owned land, in Buckle Close, Luton, breached a rule that stated capital purchases should involve the "acquisition of tangible, productive assets".
The council sold the land to the Marsh Farm Community Development Trust, which has since been succeeded by a new body known as Marsh Farm Futures, for £763,897 in 2008.
Three years later, the land has been untouched and there are no immediate development plans. The site had been intended for affordable housing.
The council said spending of the grant had been "undertaken with the express permission of government".
A council spokeswoman said: "The economic recession has impacted on the delivery of the redevelopment - this is why the asset was transferred to Marsh Farm Futures to benefit the Marsh Farm community in the future."
A spokesman for the Department for Communities and Local Government (DCLG) said it would look into the claims made by the BBC programme.
"The NDC programme was designed to deliver innovative approaches to addressing the issues of deprived neighbourhoods, with the local community at the heart of the decision making process," he said.
"Now that the NDC Programme has finished, DCLG is assessing the spending record and audit report of all 39 NDC partnerships on a case-by-case basis. Where appropriate, this can include recovery of improperly used grant.
"However, we have not yet reached the stage of seeking to recover funds."
Inside Out East will be broadcast on BBC One at 19:30 GMT on Monday 21 November.