IRA St Albans bomb memorial 'grotesque' - Peter Lilley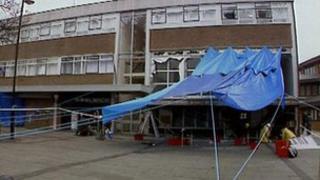 An MP has condemned plans to lay flowers in memory of an IRA bomber blown up in St Albans 20 years ago.
Patricia Black and Frankie Ryan were killed on 15 November 1991, when a bomb they were carrying detonated early.
Police have confirmed the family of one of two IRA members plans to mark the anniversary by laying a wreath.
Peter Lilley, who was the city's MP at the time, said: "I think it's grotesque to commemorate an evil act which was attempting to kill indiscriminately."
He said the bomb had targeted "innocent citizens of St Albans and bandsmen".
The bomb exploded in the doorway of the old Barclays Bank next to the Alban Arena.
The Blues and Royals military band were playing in the venue at the time.
One civilian was injured in the blast, but minutes later about 300 people would have been leaving the concert.
Black, 18, from Belfast, was a member of the Belfast Brigade of the Provisional Irish Republican Army.
Fellow member Ryan, 25, had Irish parents but was brought up in Essex and went to Ireland in 1985 where he became involved in the Republican movement.
A memorial to the pair was erected in their honour at the Sally Gardens Centre in Belfast in 2007.
Hertfordshire police said they had been "made aware of an intention to lay wreaths".
A statement read: "At this stage we are currently making numerous checks as to who is organising this and what their plans are.
"Until the exact circumstances are confirmed it would be inappropriate for us to comment any further."
A spokesperson for St Albans City and District Council, which owns land where the bomb exploded, said it was liaising with the police and would not comment further.
Peter Lilley, who was the Conservative Secretary of State for Trade and Industry at the time of the blast, became MP for Hitchin and Harpenden in 1997.