Thameslink on track for introduction of longer trains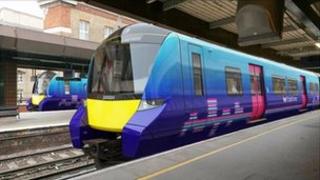 All the station platform extensions needed to allow 12-car trains on the Thameslink route have been completed.
Work finished at Flitwick and Harlington this week, ahead of the introduction of longer trains in December.
The 50% longer trains will be used for six services a day from Bedford, creating almost 1,500 extra seats.
Network Rail called it a "major milestone" in the Bedford to Brighton route construction programme.
Over the last four years, Network Rail has lengthened 41 platforms at 12 stations on the Midland main line north of London by more than two-and-a-half miles (4km) in total, to accommodate the new trains which are nearly 270 yards (250m) long.
The work was a key element of the Thameslink Programme, a £6bn government-funded initiative to ease congestion on the Bedford to Brighton route.
New fleet
The longer platforms will enable some trains to be increased from eight cars to 12, resulting in a 50% boost in capacity on those services.
First Capital Connect will initially lengthen its trains on three morning and three evening services from 12 December but more of the longer trains will be introduced when a new fleet is delivered in 2015.
Network Rail's major programme director, Jim Crawford, said they were pleased longer trains would run from next month "as planned" and the redevelopment of two London stations meant even better facilities for passengers in 2012.
"As well as more seats and less congestion at the busiest times of the day, passengers have more to look forward to next year with the new stations at Blackfriars and Farringdon opening," he said.