Hertfordshire County Council facing traffic camera bill after appeal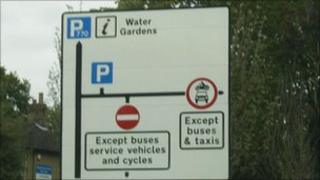 A council is facing a bill for hundreds of thousands of pounds after drivers caught by a traffic camera in Hertfordshire had their fines lifted.
Hertfordshire County Council has raised more than £500,000 from about 25,000 drivers since it began enforcing a bus lane in Hemel Hempstead in August.
But 53 drivers have now won an appeal, arguing the road markings were unclear.
The council claims it did not contest their appeals as the paperwork was not processed in time.
The council offered no evidence at the Traffic Penalty Tribunal hearing.
A spokeswoman for the council claimed it had only made £44,594 from the camera after the costs of installation and operational costs.
It has no plans to reimburse other drivers, she said.
Roger Kiesa, 64, was one of the motorists who successfully appealed against his fine.
'Serious financial loss'
Mr Kiesa, from Hemel Hempstead, said he believed the reason the council did not contest the appeal was that there was poor signage and because the markings were painted on the bus lane after enforcement began.
"They should put their hands up and say they got it wrong," he said.
In September, the traffic camera on Moor End Road issued 12,001 fines, a figure which dropped to 3,209 in October.
Nick Hollinghurst, a Liberal Democrat county councillor, said motorists had been confused by the new signs, which were in "unhelpful positions".
The council could now face a bill for hundreds of thousands of pounds if it ends up reimbursing all of the motorists who paid the fine, Mr Hollinghurst said.
"If the council has to refund the money, as seems likely, then we have serious financial loss for the county council at a time it can ill afford it."
Transport Minister Mike Penning, MP for Hemel Hempstead, said all motorists caught before the council painted the words "bus lane" on the road in September should be get their money back.
"Those who were prosecuted prior to the painting of the bus lane have a very good case to be refunded," he said.
In September, Mr Penning wrote to Caroline Tapster, chief executive of the Conservative-led council, asking her to suspend enforcement action and refund any fines already handed out.