Buckinghamshire man one of youngest crew attempting Atlantic row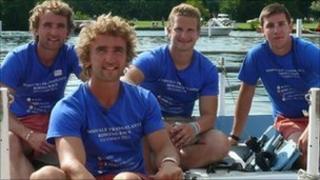 A Buckinghamshire man is about to set off on a record attempt to row across the Atlantic as part of the youngest team to do so.
Greg Symondson, 22, from Speen, will join Adam Wolley, 23, and twins Ross and Hugo Turner, 23, from Exeter in the Woodvale Transatlantic Rowing Race.
They leave the Canary Islands on Sunday and aim to cover almost 3,000 miles to arrive in Barbados in February 2012.
They aim to raise £150,000 for Spinal Research.
The four crew members met in 2008 while studying at Loughborough University and have been working on the project for about 15 months.
'Very lucky recovery'
Mr Symondson began rowing, aged 13, at Marlow Rowing Club and has wanted to row the Atlantic ever since TV presenter Ben Fogle and Olympic champion James Cracknell completed the journey in 2006.
However, it was only after mentioning his ambition to the Turner twins that the idea of rowing across the Atlantic for Spinal Research came about.
Five years ago, Hugo Turner broke the C7 vertebrae in the back of his neck after jumping into the sea and had a "very lucky recovery".
"He [Hugo] was tied down to a spinal bed for about six weeks unable to move and had a very serious operation," explained Mr Symondson.
"He was in a ward with about eight other people and he was the only one who walked away, so it's a charity which is very close to Hugo's heart and we're happy to support them."
Training has involved sitting on a rowing machine for "hours and hours on end", plus doing weights and eating to gain fat.
Final preparations
The four flew to the Canaries on 16 November and will have 17 days on the start island of La Gomera for final boat preparations and sea trials.
The race will see them spend about 50 days in a 29-foot long (8.8m) boat that is just 6ft (1.8m) across at its widest point.
"The daily structure will be that we will row two hours on and two hours off, with two rowers rowing at any one time, while the other two are cooking, eating and washing themselves," said Mr Symondson.
He also revealed that they were taking about 300 snacks each in order to make up about 2,000 calories a day.
"The average ocean rower loses about a stone and a half in an Atlantic crossing and some lose up to four stone so basically all the things your mum told you not to eat we've absolutely crammed in there," he added.
As well as raising money, Mr Symondson said that, with a combined age of 91, the crew were set to break two world records, one for the youngest four-man crew to row across any ocean in the world and the other for the first twins to complete this journey.
"I can't even comprehend how it's going to feel to get there but I know it's going to be an amazing feeling and one I will remember for the rest of my life," he said.