Accurate roll of honour for Wheathampstead war dead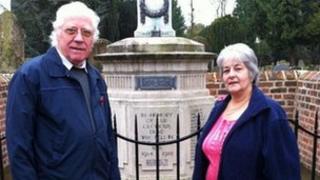 An accurate list of a Hertfordshire village's dead servicemen and women is to be read for the first time, after two residents found it had previously contained a number of mistakes.
The roll of honour with the names of Wheathampstead residents killed in World War I and World War II is read in St Helen's parish church every Remembrance Sunday.
However, when Terry and Margaret Pankhurst set out to research the village's war dead, they discovered that service records did not tally with the names on the village war memorial or the roll of honour.
The greatest inaccuracies were in the latter which had been inscribed and bound in 1951 and read out during the village's annual remembrance day service.
They believe that errors were made because information gathering had been informal and based on 'hearsay' rather than official data.
"We found somebody who was not on the war memorial or the roll of honour, and we've found several mistakes on the roll of honour that have got the names spelt wrong or the Christian names totally wrong," said Mrs Pankhurst.
Painstaking research
John William Earney was killed in India during World War II and his name was inscribed correctly on the village war memorial.
However, it had always been read out from the roll of honour as John William Earmey.
His niece Angela Beach said that she was "over the moon" that the correction had been made and that they were now "keeping the right name in honour for what he did for our country".
Mr and Mrs Pankhurst also discovered that some victims had been buried with War Graves Commission headstones in St Helen's churchyard, yet did not appear on the memorials.
They also found one servicewoman from World War II whose name was on the village war memorial but had been overlooked on the roll of honour.
The couple's research, which has taken two years to complete, saw them work painstakingly through each record, with the Commonwealth War Graves Commission (CWGC), the County Records Office, local newspaper files and the internet.
The result is a definitive list of 102 men and one woman which corrects the previous errors and oversights.
The Rector of St Helens, the Revd Richard Banham, said: "While there have been errors over the last 90-plus years, we can be confident that our all-knowing God has always had them in his care.
"We as a village will remember these courageous comrades, whose sacrifice means that we all enjoy the freedom and democracy which we should never take for granted."