Children in Need gets youngsters angling for success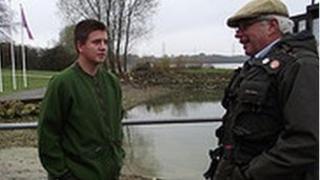 Disaffected young people in Bedfordshire are being helped through a charitable organisation offering fishing and other outdoor pursuits, thanks to money from Children in Need.
Angling4Success is part of Progressability.org, which as a whole has received £83,267 from the charity.
It aims to engage youngsters with behavioural difficulties through activities such as fishing, photography, and environmental studies.
They work towards BTec qualifications in angling skills and gain work-related experience within the fisheries industry.
Project manager Terry Richardson said the scheme gave "harder-to-reach young people", who would not normally get involved in these kinds of activities, a chance to gain vocational experience.
"Angling4Success is about offering positive outdoor experiences, learning new outdoor skills and helping young people towards a positive progression route," he said.
"A lot of these people [that come to us] feel really stifled in a classroom situation and may be better off working in smaller groups where they can come to life and learn new skills that are hopefully transferable to any outdoor industry.
"Maybe there's a chaotic family background or difficulties in school for whatever reason, but we'll try and get people who would benefit from an outdoor learning experience, gain some confidence, gain some qualifications and really get them in a positive frame of mind for the future."
'Help others'
Robin Snelling, 15, from Luton is an example of how Angling4Success helps young people find a positive path.
Excluded from school, he is working towards a BTec Fish Husbandry qualification (Two GCSE equivalent) and will also complete his Level 1 Angling Coaching Qualification at the beginning of 2012.
Rob is also being encouraged to work alongside the project as an assistant angling coach next year as leaders feel his new-found knowledge and enthusiasm will enable him to mentor slightly younger peers who need a helping hand.
"That's something I'm looking forward to doing because it [the project] has helped me out a lot and so I can now help others out and do what the coaches here have done for me," he said.
Angling4Success received a three-year grant from Children in Need in 2008 which helped it to "kick-start" the programme.
The money enabled it to hire a full-time coach to be able to offer sustainable outdoor activities and buy a minibus to transport youngsters to activities.
In the past three years it has broadened its remit to include other activities, such as mountain biking and outdoor photography.
"We've reapplied for assistance from Children in Need for 2011-2012 onwards and I very much hope that they feel we've achieved sufficiently to merit some more funding," said Mr Richardson.
BBC Local Radio is hosting 22 special screenings of Grease in aid of Children in Need, at Cineworld cinemas across England on Tuesday 15 November. Tickets are £6, with £5 going to Children in Need. More details here.